International NEWS from the Pit Bulls World
En ESPAÑOL aquí: https://www.fiapbt.net/noticiaspitbull.html - https://www.facebook.com/FIAPBT/photos/a.451449941132/10160150844056133
The last great Official event, of the breed dog American Pit Bull Terrier (APBT or Pit Bull) of the year 2021, was held on November 27 and 28 in Chipley, Florida (USA), which was organized by the official ADBA clubs, the Georgia APBTC and Mid Florida APBTA, where on an extraordinary sunny fall day, a large number of fans and dogs in competition gathered, to enjoy an unforgettable weekend. The participation was spectacular, some impressive Pit Bulls, the cream of the cream of the breed...
<![if !vml]>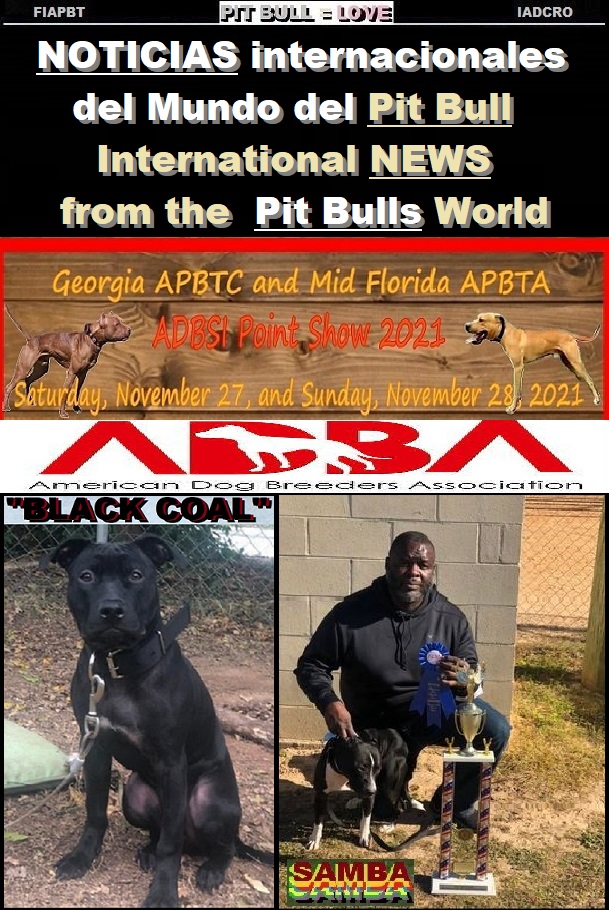 <![endif]>
Willie Whack Jr. was the big winner of the Conformation (Standard Test) event, since "SAMBA", in her 12 to 18 month class and "BLACK COAL", in his 6 to 9 month class, his two Pit Bull participants, won in its respective classes getting both the 1st position, even "SAMBA", also won Judges choice female. In this competition she was the judges pick out of all the female dogs that participated.
Both "SAMBA" and "BLACK COAL" were its first time competing in an Official event of these characteristics and the result could not be better, Congratulations!!!
- FIAPBT Pedigree Online from "SAMBA": http://www.fiapbtpedigree.com/imprimir_ficha.php?idm=en&criterio=327189
- FIAPBT Pedigree Online de "BLACK COAL": http://www.fiapbtpedigree.com/imprimir_ficha.php?idm=en&criterio=327203
Curiously, a few weeks ago, Willie made a report offering his opinion about his two doggies, "SAMBA" and "BLACK COAL", which can be seen at: https://www.facebook.com/FIAPBT/photos/a.451449941132/10159966038996133 and on the website: https://www.fiapbt.net/alchemy.html
´Congratulations and MERRY CHRISTMAS!!! <3