FIAPBT and IADCRO Posthumous RECOGNITION, granted the medal by the brave merit to WAR HERO the Sergeant "Stubby".
    

The Sergeant Stubby
 <![if !vml]>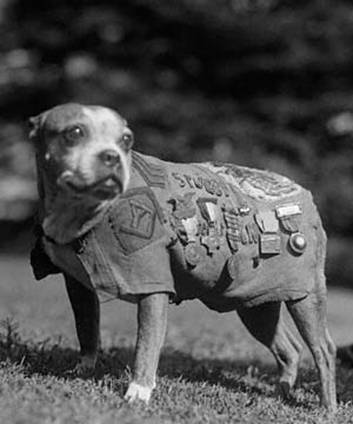 <![endif]> Sergeant Stubby <![if !vml]>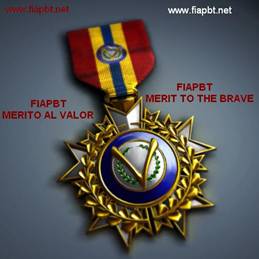 <![endif]>
           WORLD WAR I
<![if !vml]>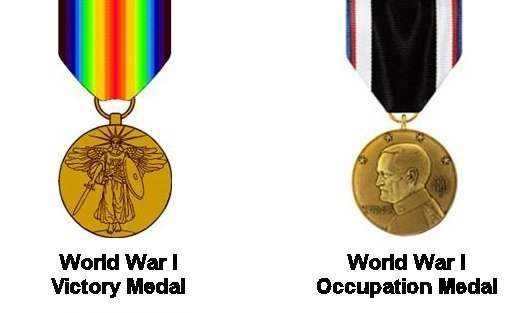 <![endif]>
<![if !vml]>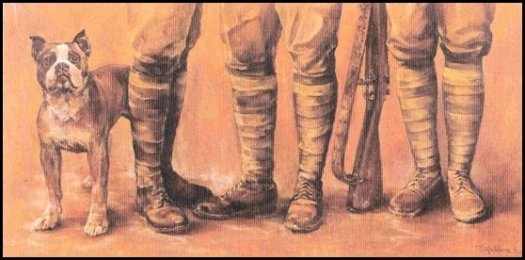 <![endif]>"Sergeant Stubby & The Dough Boys" (Original Oil by Terry Waldron)
World War I – Sergeant Stubby
Although the United States military did not have a War Dog program in place during WWI, there were plenty of military mascot dogs in the trenches with the American troops. The most famous was a dog named Stubby who became the first American War Dog Hero and this is his story.
Stubby joined the 102nd Infantry, 26th (Yankee) Division, at Yale Field, New Haven, Connecticut in the spring of 1917. He was several weeks old at the time of his arrival. J. Robert Conroy was his owner and only master.
In July 1917, Stubby was smuggled aboard the S.S. Minnesota at Newport News, Virginia, and sailed to France. Stubby was at the war's front lines in the trenches on February 5, 1918, and participated in seventeen World War I engagements.
Stubby's first battle injury was from gas exposure. He was nursed to health in a field hospital, but his near death experience made him very sensitive to the smell of gas. A few weeks later the Germans launched an early morning gas attack. The men in Stubby's trench were sleeping. Stubby sniffed the air and then quickly ran through the trench barking and biting at the sleeping soldiers. Stubby's alert saved many soldiers from injury.
Stubby was an expert in locating wounded men in the "no man's land" between the trenches of the opposing armies. Stubby would listen for injured men shouting in English. He would then run to them and bark for the paramedics.
One day, while on patrol in no man's land, Stubby heard a noise coming from a small patch of brush. He went to investigate and found a German spy making a map of the allied trenches. The German soldier called Stubby to him but it didn't work. Stubby started barking. The German began to run and Stubby took off after him, biting at his legs causing him to trip and fall. Stubby attacked the German's arms and finally bit and held onto his rear-end. When the allied soldiers arrived on the scene they realized Stubby had captured a spy.
In a later battle, Stubby was wounded with shrapnel in his chest and right leg from a German grenade. He was rushed to a field hospital and stabilized after several operations. When Stubby was well enough he spent his time visiting the wounded soldiers and socializing with the nurses. After healing, Stubby rejoined the Yankee Division.
After the Armistice, Stubby met President Woodrow Wilson during his visit with the 102nd Infantry in France on Christmas Day 1918. Stubby became an American folk hero and participated in many parades, war bond rallies, and hospital visits. Stubby was rewarded for his service with many military service medals, badges, patches and a promotion to sergeant.
If all this were not enough, being in Paris, Stubby it saved a girl to die run over by a car.
In 1921, General John J. Pershing awarded a gold medal to Sgt. Stubby. That same year, Sgt. Stubby visited the White House to meet President Harding and again in 1924 to meet President Coolidge.
Sgt. Stubby died on March 16, 1926. His remains are preserved at the Smithsonian Institution.
<![if !vml]>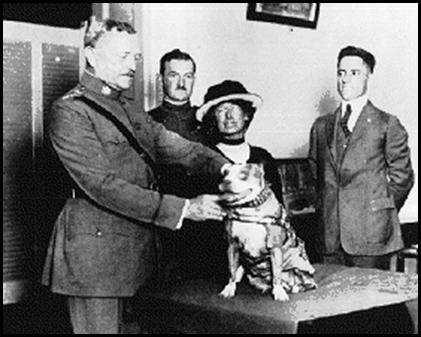 <![endif]>
"General John J. Pershing & Sgt. Stubby – 1921"
<![if !vml]>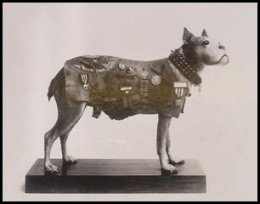 <![endif]><![if !vml]>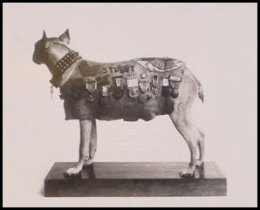 <![endif]>
"Sgt. Stubby adorned in his Blanket of Military Awards"
(Smithsonian Institution)
Posthumous Medal to the merit to the Brave granted by the FIAPBT and IADCRO
<![if !vml]>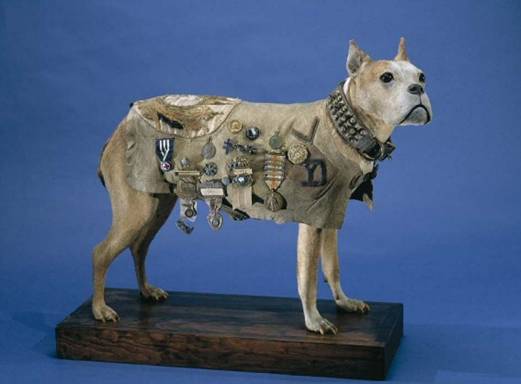 <![endif]> Sergeant Stubby.
This doggie called Sgt "STUBBY", is criminalized by the BSL and by the Law PPP in Spain, like it does with thousands and thousands of good and noble dogs pertaining to eight wonderful breed dogs along with its responsible proprietors.
By the modification of the BSL and Law PPP, by the equality and for All the citizens the same without discriminations.
"PUNISH THE DEED NOT THE BREED"
All the fans to the American Pit Bull Terrier of any place and the lovers of the animal in general, we give to you THOUSANDS THANKS "THOR", never we will forget to you.
RESCUE TO PEOPLE USING AMERICAN PIT BULL TERRIER:  http://www.fiapbt.net/rescate.html  
Therapy Attended Physical and Psychic Handicappeds using AMERICAN PIT BULL TERRIER:  http://www.iadcro.com/terapia.html  
Castiga el hecho y no a la raza. NO a la LEY PPP.    Punísh the deed not the breed. NO BSL.
NO AL MALTRATO ANIMAL. NUNCA MÁS.                  NOT TO THE ANIMAL MISTREAT. NEVER MORE.
http://www.facebook.com/photo.php?fbid=10150436186446133&set=a.451449941132.245086.271421886132&type=1&theater  
The TV and other Mass media, to sell and more better their news, when some dog attacks a person, inform into which the attacking dog was a PIT BULL. Later one demonstrates time and time again that it was not it, but already the mass media are shut up and they do not rectify, do not say anything. When PIT BULL save lives of people, that does not generate disease, therefore it does not sell and they do not remove it in TV.
It is not necessary to be so short of mind to include/understand the manipulation that makes mass media to generate Disease = Hearing = Money.
It is not necessary to ignore that all the dogs are of the race that are with IRRESPONSIBLE PROPRIETORS can attack. Everything depends on the RESPONSIBILITY OF the PROPRIETOR.
With throwing a look to the information that we enclosed, which was realised by professionals of the canine world, even by scientists, among them several etólogos scientists, etc. one can get to include/understand of a suitable way the so unjust criminalization that this committing itself against these animalitos:
Mortal statistics of attacks of dog to people: http://www.fiapbt.net/statistics.htm
IADCRO METHOD.THE IMPORTANCE OF THE DIFFUSION TO SECURE TO MODIFY THE BSL: http://www.iadcro.com/diffusion.html
THEY MANIPULATE to US THROUGH MASS MEDIA, we are not ignorant nor we let ourselves manipulate so easily, we demonstrate that we have criterion and own personality: http://www.iadcro.com/11estrategiasmanipulacion.html   --  http://www.iadcro.com/19june.html
THE REAL NATURE OF PIT BULL (APBT) PHOTOGRAPHED THROUGHOUT HISTORY UNTIL THE TIMES OF THE PRESENT TIME. So that soon they say that these animalitos are bad. What one is due to do is to criminalize to the irresponsible proprietors and not to the races of dogs, contemplating this is only the overflow of the absurd thing.  MORE BOND AN IMAGE THAN THOUSAND WORDS: http://www.fiapbt.net/fotosbuenas.html
ALSO IN VIDEO. Many PIT BULL of so much countries, which show the same in comun in its genes:  http://www.youtube.com/watch?v=lxX1TY6hU_8
SINCE IADCRO & FIAPBT WE WISH YOU THE BEST: Pit Bull Pictures http://www.iadcro.com/christmaspic.html
BELIVE MORE IN WHICH YOU ARE SEEING WITH YOUR OWN EYES AND NOT MUCH IN WHICH THEY TELL YOU.
Science confirms that the mascots feel emotions and have beneficial effects on their owners: http://www.iadcro.com/ciencia.html
WHEN SOMETIMES THEY JUSTIFY LAW PPP SO THAT THE APBT OR THE ROTTWEILER IS POWERFUL RACES: http://www.iadcro.com/sejustifican.html
THE CHARACTER OF AMERICAN PIT BULL TERRIER: http://www.fiapbt.net/character.html
ORIGINS OF AMERICAN PIT BULL TERRIER: http://www.fiapbt.net/origins.html
THE AMERICAN PIT BULL TERRIER IS THE BREED DOG MORE CRIMINALIZED OF ALL BSL CRIMINALIZED BREED DOGS BY FAR: http://www.facebook.com/topic.php?uid=286596547992&topic=17471 (First you can see it in Spanish and after it, in English)
Has been demonstrated scientifically in different ways the nonexistence of Dangerous or Potentially Dangerous breeds dogs. The SCIENTIFIC CONGRESS message has VALIDED for all the languages and all the countries, THE BSL IS NOT VALIDATED:  http://www.iadcro.com/informationcongress.html  
IADCRO INFORMATION UPDATED MAY 10, 2011: http://www.iadcro.com/iadcroinformation.html
The OWN DOGS (that really are the protagonists) ALSO HAVE SOMETHING TO SAY, WITH RESPECT TO the COMMOTION THAT SOME HAVE MOUNTED AT THE COST OF THEM: http://www.iadcro.com/unperro.html
THE TRUTH:  http://www.villaliberty.org/thetruthandme.html
http://www.facebook.com/photo.php?fbid=10150436374396133&set=o.104757732940015&type=1&theater
Would be us thanked to you, if you PASS IT ON!!! of this information, to close mouths to many ignorants and at the same time to defend to these doggies so unjustly criminalized by many people and the unjust BSL.  Please please please  ¡¡¡ Pass it on !!!
THOUSANDS  THANKS
FIAPBT www.fiapbt.net
Facebook: http://www.facebook.com/pages/FEDERACION-INTERNACIONAL-DEL-AMERICAN-PIT-BULL-TERRIER/271421886132?sk=wall