FIAPBT and IADCRO RECOGNITION, granted the medal by the brave merit to "NIPI", a CANINE HERO, WHICH CARRIED OUT WORKS TO THE BENEFIT OF THE HUMANITY.
"Nipi", was born the 4 from March of the 2001 in Maracaibo, Edo Zulia, in Venezuela. JOHN RIVEROS was trained by the Commissioner of the Police.
<![if !vml]>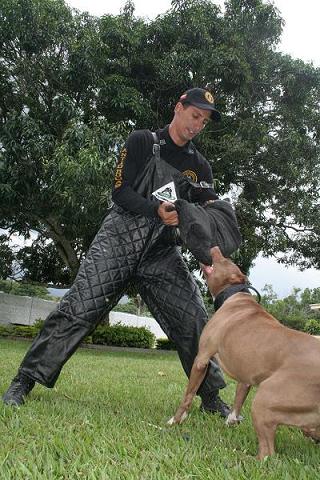 <![endif]> Nipi <![if !vml]>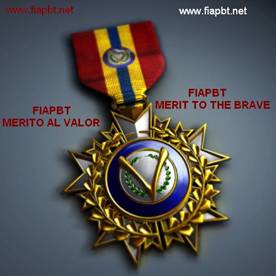 <![endif]>
Like dog of police work, "Nipi", to collaborated with Many Body Police in Venezuela, among them, the Municipal Police of San Joaquin de Carabobo, Municipal Police of Mariara, Municipal Police of  Vantage point, Municipal Police of Port Hair, Municipal Police of Bejuma, with the Body of Penal Scientific researches and Criminologies CICPC, With the National Guard Bolivariana, with Division of Intelligence of the Air Force of Venezuela, With the Division of the intelligence services prevention DISIP and with the Ministry of the Defense like associate in the support of the caravan of security and escort of the Defense Ministry .
"Nipi" also to worked in didactic tasks for children, supporting to the ONA National office Antidrug. This only in Venezuela.
"NIPI" has more than 160 real narcotic detections. Now already in retirement with its 10 years, it is the alive sample of which this dogs are unjustly stigmatised.
All animal lovers in general of any place, we give to you THOUSANDS THANKS "Nipi", never we will forget to you.
PS. Thank you very much to Lic. J. Riveros to offer all the information to us of "Nipi", to be able it to render a recognition very deserved to this doggie.
RESCUE TO PEOPLE USING AMERICAN PIT BULL TERRIER:  http://www.fiapbt.net/rescate.html  
Therapy Attended Physical and Psychic Handicappeds using AMERICAN PIT BULL TERRIER:  http://www.iadcro.com/terapia.html  
Castiga el hecho y no a la raza. NO a la LEY PPP.    Punísh the deed not the breed. NO BSL.
NO AL MALTRATO ANIMAL. NUNCA MÁS.                  NOT TO THE ANIMAL MISTREAT. NEVER MORE.
http://www.facebook.com/photo.php?fbid=10150436186446133&set=a.451449941132.245086.271421886132&type=1&theater  
The TV and other Mass media, to sell and more better their news, when some dog attacks a person, inform into which the attacking dog was a PIT BULL. Later one demonstrates time and time again that it was not it, but already the mass media are shut up and they do not rectify, do not say anything. When PIT BULL save lives of people, that does not generate disease, therefore it does not sell and they do not remove it in TV.
It is not necessary to be so short of mind to include/understand the manipulation that makes mass media to generate Disease = Hearing = Money.
It is not necessary to ignore that all the dogs are of the race that are with IRRESPONSIBLE PROPRIETORS can attack. Everything depends on the RESPONSIBILITY OF the PROPRIETOR.
With throwing a look to the information that we enclosed, which was realised by professionals of the canine world, even by scientists, among them several etólogos scientists, etc. one can get to include/understand of a suitable way the so unjust criminalization that this committing itself against these animalitos:
Mortal statistics of attacks of dog to people: http://www.fiapbt.net/statistics.htm
IADCRO METHOD.THE IMPORTANCE OF THE DIFFUSION TO SECURE TO MODIFY THE BSL: http://www.iadcro.com/diffusion.html
THEY MANIPULATE to US THROUGH MASS MEDIA, we are not ignorant nor we let ourselves manipulate so easily, we demonstrate that we have criterion and own personality: http://www.iadcro.com/11estrategiasmanipulacion.html   --  http://www.iadcro.com/19june.html
THE REAL NATURE OF PIT BULL (APBT) PHOTOGRAPHED THROUGHOUT HISTORY UNTIL THE TIMES OF THE PRESENT TIME. So that soon they say that these animalitos are bad. What one is due to do is to criminalize to the irresponsible proprietors and not to the races of dogs, contemplating this is only the overflow of the absurd thing.  MORE BOND AN IMAGE THAN THOUSAND WORDS: http://www.fiapbt.net/fotosbuenas.html
ALSO IN VIDEO. Many PIT BULL of so much countries, which show the same in comun in its genes:  http://www.youtube.com/watch?v=lxX1TY6hU_8
SINCE IADCRO & FIAPBT WE WISH YOU THE BEST: Pit Bull Pictures http://www.iadcro.com/christmaspic.html
BELIVE MORE IN WHICH YOU ARE SEEING WITH YOUR OWN EYES AND NOT MUCH IN WHICH THEY TELL YOU.
Science confirms that the mascots feel emotions and have beneficial effects on their owners: http://www.iadcro.com/ciencia.html
WHEN SOMETIMES THEY JUSTIFY LAW PPP SO THAT THE APBT OR THE ROTTWEILER IS POWERFUL RACES: http://www.iadcro.com/sejustifican.html
THE CHARACTER OF AMERICAN PIT BULL TERRIER: http://www.fiapbt.net/character.html
ORIGINS OF AMERICAN PIT BULL TERRIER: http://www.fiapbt.net/origins.html
THE AMERICAN PIT BULL TERRIER IS THE BREED DOG MORE CRIMINALIZED OF ALL BSL CRIMINALIZED BREED DOGS BY FAR: http://www.facebook.com/topic.php?uid=286596547992&topic=17471 (First you can see it in Spanish and after it, in English)
Has been demonstrated scientifically in different ways the nonexistence of Dangerous or Potentially Dangerous breeds dogs. The SCIENTIFIC CONGRESS message has VALIDED for all the languages and all the countries, THE BSL IS NOT VALIDATED:  http://www.iadcro.com/informationcongress.html  
IADCRO INFORMATION UPDATED MAY 10, 2011: http://www.iadcro.com/iadcroinformation.html
The OWN DOGS (that really are the protagonists) ALSO HAVE SOMETHING TO SAY, WITH RESPECT TO the COMMOTION THAT SOME HAVE MOUNTED AT THE COST OF THEM: http://www.iadcro.com/unperro.html
THE TRUTH:  http://www.villaliberty.org/thetruthandme.html
http://www.facebook.com/photo.php?fbid=10150436374396133&set=o.104757732940015&type=1&theater
Would be us thanked to you, if you PASS IT ON!!! of this information, to close mouths to many ignorants and at the same time to defend to these doggies so unjustly criminalized by many people and the unjust BSL.  Please please please  ¡¡¡ Pass it on !!!
THOUSANDS  THANKS
FIAPBT www.fiapbt.net
Facebook: http://www.facebook.com/pages/FEDERACION-INTERNACIONAL-DEL-AMERICAN-PIT-BULL-TERRIER/271421886132?sk=wall