FIAPBT and IADCRO RECOGNITION, granted the medal by the brave merit to "ANGEL", a AMERICAN PIT BULL TERRIER CANINE HERO, which was lost and Saves a Woman and her Child From Attacker with violence.
An American Pit Bull Terrier (PIT BULL) lost, Saves Woman and her Child From Attacker with violence.
PORT CHARLOTTE, Fla. — The wandering 60 pound American Pit Bull Terrer (PIT BULL) might have seemed menacing to some passerby, but one woman will always remember him as her "guardian angel."
<![if !vml]>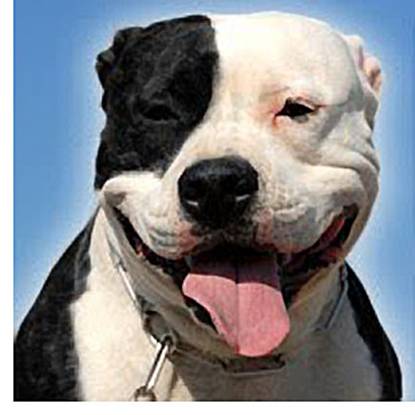 <![endif]> Angel <![if !vml]>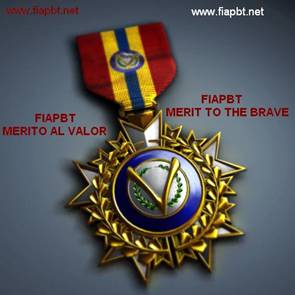 <![endif]>
The dog, which authorities think is lost, successfully thwarted a robbery attack on a mother and her 2-year-old son, who were held at knifepoint Monday afternoon.
The Florida woman, who has been identified by authorities simply as "Angela," was leaving a playground with her toddler son in Port Charlotte when a man approached her in the parking lot with a knife and told her not to make any noise or sudden movements.
Angela didn't have to do either to protect herself and her child — a dog mysteriously ran to the scene and charged the man, who quickly fled.
"I don't think the dog physically attacked the man, but he went at him and was showing signs of aggression, just baring his teeth and growling and barking. It was clear he was trying to defend this woman," Animal Control Lt. Brian Jones told Pet Pulse.
"I don't know what this man's intentions were, but it is very possible this dog saved her life."
The exceptional part of the story, Jones said, is that the dog had never met or even seen the people it quickly jumped to defend.
"You hear about family dogs protecting their owners, but this dog had nothing to do with this woman or her kid," Jones said. "He was like her guardian angel, that animal had an extraordinary intelligence."
After the alleged thief ran away, Angela quickly placed her son, Jordan, in the car and tried to drive off. Before she could, though, the dog jumped into her backseat, waiting with her for the police and animal control officers to arrive at the scene.
The dog was transported to a local shelter and if his owners don't step forward within five days, Jones said, Angela and her family plan to adopt the savior she named "Angel."
Animal control officers and shelter workers believe Angel is lost, and not a stray, because of his good health, sturdy weight and mild temperament.
"It's funny, that someone's irresponsibility could have saved someone's life," Jones said of Angel's possible owners.
For Angela, it doesn't matter where the dog came from, just that he was there when she needed him most.
"I don't know what his [the thief's] intentions were — I don't know why he did it, but I'm glad that — we call him Angel — I'm glad that Angel showed up because I don't know what would have happened," Angela told NBC2 News.
This doggie called Angel, is criminalized by the BSL and by the Law PPP in Spain, like it does with thousands and thousands of good and noble dogs pertaining to eight wonderful breed dogs along with its responsible proprietors.
By the modification of the BSL and Law PPP, by the equality and for All the citizens the same without discriminations.
"PUNISH THE DEED NOT THE BREED"
All the fans to the American Pit Bull Terrier of any place and the lovers of the animal in general, we give to you THOUSANDS THANKS "ANGEL", never we will forget to you.
RESCUE TO PEOPLE USING AMERICAN PIT BULL TERRIER:  http://www.fiapbt.net/rescate.html  
Therapy Attended Physical and Psychic Handicappeds using AMERICAN PIT BULL TERRIER:  http://www.iadcro.com/terapia.html  
Castiga el hecho y no a la raza. NO a la LEY PPP.    Punísh the deed not the breed. NO BSL.
NO AL MALTRATO ANIMAL. NUNCA MÁS.                  NOT TO THE ANIMAL MISTREAT. NEVER MORE.
http://www.facebook.com/photo.php?fbid=10150436186446133&set=a.451449941132.245086.271421886132&type=1&theater  
The TV and other Mass media, to sell and more better their news, when some dog attacks a person, inform into which the attacking dog was a PIT BULL. Later one demonstrates time and time again that it was not it, but already the mass media are shut up and they do not rectify, do not say anything. When PIT BULL save lives of people, that does not generate disease, therefore it does not sell and they do not remove it in TV.
It is not necessary to be so short of mind to include/understand the manipulation that makes mass media to generate Disease = Hearing = Money.
It is not necessary to ignore that all the dogs are of the race that are with IRRESPONSIBLE PROPRIETORS can attack. Everything depends on the RESPONSIBILITY OF the PROPRIETOR.
With throwing a look to the information that we enclosed, which was realised by professionals of the canine world, even by scientists, among them several etólogos scientists, etc. one can get to include/understand of a suitable way the so unjust criminalization that this committing itself against these animalitos:
Mortal statistics of attacks of dog to people: http://www.fiapbt.net/statistics.htm
IADCRO METHOD.THE IMPORTANCE OF THE DIFFUSION TO SECURE TO MODIFY THE BSL: http://www.iadcro.com/diffusion.html
THEY MANIPULATE to US THROUGH MASS MEDIA, we are not ignorant nor we let ourselves manipulate so easily, we demonstrate that we have criterion and own personality: http://www.iadcro.com/11estrategiasmanipulacion.html   --  http://www.iadcro.com/19june.html
THE REAL NATURE OF PIT BULL (APBT) PHOTOGRAPHED THROUGHOUT HISTORY UNTIL THE TIMES OF THE PRESENT TIME. So that soon they say that these animalitos are bad. What one is due to do is to criminalize to the irresponsible proprietors and not to the races of dogs, contemplating this is only the overflow of the absurd thing.  MORE BOND AN IMAGE THAN THOUSAND WORDS: http://www.fiapbt.net/fotosbuenas.html
ALSO IN VIDEO. Many PIT BULL of so much countries, which show the same in comun in its genes:  http://www.youtube.com/watch?v=lxX1TY6hU_8
SINCE IADCRO & FIAPBT WE WISH YOU THE BEST: Pit Bull Pictures http://www.iadcro.com/christmaspic.html
BELIVE MORE IN WHICH YOU ARE SEEING WITH YOUR OWN EYES AND NOT MUCH IN WHICH THEY TELL YOU.
Science confirms that the mascots feel emotions and have beneficial effects on their owners: http://www.iadcro.com/ciencia.html
WHEN SOMETIMES THEY JUSTIFY LAW PPP SO THAT THE APBT OR THE ROTTWEILER IS POWERFUL RACES: http://www.iadcro.com/sejustifican.html
THE CHARACTER OF AMERICAN PIT BULL TERRIER: http://www.fiapbt.net/character.html
ORIGINS OF AMERICAN PIT BULL TERRIER: http://www.fiapbt.net/origins.html
THE AMERICAN PIT BULL TERRIER IS THE BREED DOG MORE CRIMINALIZED OF ALL BSL CRIMINALIZED BREED DOGS BY FAR: http://www.facebook.com/topic.php?uid=286596547992&topic=17471 (First you can see it in Spanish and after it, in English)
Has been demonstrated scientifically in different ways the nonexistence of Dangerous or Potentially Dangerous breeds dogs. The SCIENTIFIC CONGRESS message has VALIDED for all the languages and all the countries, THE BSL IS NOT VALIDATED:  http://www.iadcro.com/informationcongress.html  
IADCRO INFORMATION UPDATED MAY 10, 2011: http://www.iadcro.com/iadcroinformation.html
The OWN DOGS (that really are the protagonists) ALSO HAVE SOMETHING TO SAY, WITH RESPECT TO the COMMOTION THAT SOME HAVE MOUNTED AT THE COST OF THEM: http://www.iadcro.com/unperro.html
THE TRUTH:  http://www.villaliberty.org/thetruthandme.html
http://www.facebook.com/photo.php?fbid=10150436374396133&set=o.104757732940015&type=1&theater
Would be us thanked to you, if you PASS IT ON!!! of this information, to close mouths to many ignorants and at the same time to defend to these doggies so unjustly criminalized by many people and the unjust BSL.  Please please please  ¡¡¡ Pass it on !!!
THOUSANDS  THANKS
FIAPBT www.fiapbt.net
Facebook: http://www.facebook.com/pages/FEDERACION-INTERNACIONAL-DEL-AMERICAN-PIT-BULL-TERRIER/271421886132?sk=wall